Outdoor Kitchens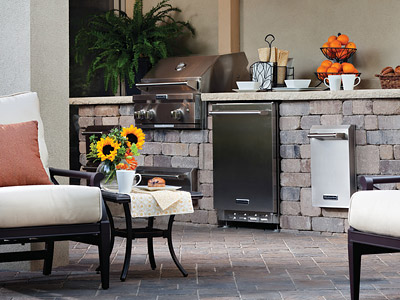 When homeowners plan on upgrading the landscaped areas of their property, they want to ensure that whatever they install there adds to the functionality and aesthetics of the yard and garden spaces. The one way to do that is to get a custom outdoor kitchen installed on the property.

We at Custom Outdoor Living provide excellent patio kitchen installation services to customers in and around Granger, South Bend, Elkhart, Mishawaka and Benton Harbor. We have a strong customer base across Goshen, Plymouth, Sturgis, Michigan City and Portage as well. We know that your home is special to you and that you have some specific ideas about how they want their home and yard spaces to look.


Outdoor Kitchen Planning
This is exactly why our experts work very closely with you, understand what those ideas are and then provide design options that meet your preferences. We plan every aspect of the exterior kitchen to perfection such as:


Floor plan - This will be dependent on the available space and the location of the kitchen. For instance, if it is going to be an extension of the indoor areas of your home and is going to be built on a deck or patio, the floor plan calls for a different movement flow. On the other hand, if the kitchen is going to be a standalone feature in the garden, its structure and planning would be entirely different.


The counters - This is another important factor that has to be planned at the outset. You can choose between L-shaped, U-shaped, C-shaped, parallel or island counters. To a certain degree, this would be based on the amount of space available.


Flooring - We will ensure that high grade weather-resistant materials are used in the installation. We recommend the use of outdoor kitchen pavers and you can choose from ones made of natural stone, brick or concrete.


Appliances - We would also need to know which appliances you need and would make space provision for these. Most modern outdoor kitchens boast equally modern kitchen appliances such as gas stoves, ovens, BBQ grills and more. If you like, you can also get a refrigerator and bar space installed.


Fireplace/fire pit - The one way to make this space more usable during the colder months is to get a fireplace or fire pit installed in the patio kitchen. This can be custom designed to your specifications and can be made of brick, concrete or natural stone.


Seating - You are sure to want a certain amount of seating space in your outdoor kitchen and we will take this requirement into account when we are planning this space. We can build retaining walls along the periphery of the allocated space and incorporate in-built seating in them. This frees up a lot of floor space in the kitchen area.


As you can see, we are extremely detailed in our approach to our work and take every little and big aspect into account while planning your outdoor kitchen. For any more information about our Patio Kitchen installation services, simply call Custom Outdoor Living at this number - 574-993-0629 and discuss your project details with our experts. We will provide solutions at very reasonable outdoor kitchen cost. You can also send us details via this online form.

We Provide Services to the Following Cities, Towns and Surrounding Regions of MI and IN: