Water Features/Ponds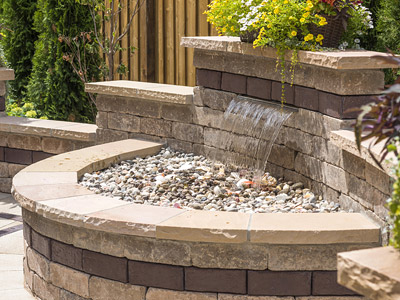 Every landscape is an amalgamation of various elements and installations and skilled and experienced landscapers always use these in the right proportion to lend beauty and functionality to the outdoor spaces of your property. When we handle end-to-end landscaping projects, many of our clients ask for water features to be designed and installed.

We at Custom Outdoor Living provide excellent fountain installation services to customers in and around Granger, South Bend, Elkhart, Mishawaka and Benton Harbor. We have a strong customer base across Goshen, Plymouth, Sturgis, Michigan City and Portage as well.


Benefits of Adding Yard Water Features
Water features add a charm and freshness to the outdoor spaces of your property.
Aside from this, they help create a very serene atmosphere.
If you live in a busy neighborhood, a cascading waterfall can help dull the sound of the traffic and surrounding noise.
If there is a view you want to hide or if you want to create a privacy wall, adding a rock waterfall is the perfect option.
Types of Water Features
There are a number of different types of water features you can choose from such as:


Fountains - This is a very popular water feature and we can custom design these based on the overall theme and styling of your garden or yard. You can choose from ones made of concrete or metal in any shape and size.
Ponds - If you want a pond installed on your property, the location will have to be planned with care. This is especially true if you want to add aquatic plants and fish to the feature.
Waterfall - As mentioned earlier, a waterfall is an excellent addition to your landscaping. You can choose to get either one with a pond at the base or a pondless installation.
Stream - This feature creates a very natural look on the property. It can be an extension of your waterfall or can be an independent feature. We can line the stream with river pebbles which adds a very quaint look to the garden.

Regardless of the type of water feature you want installed, we provide excellent, customized solutions. The best, weather-proof materials are used in the work and care is taken to ensure that the design and theme of the feature matches the design of the rest of the landscaping.


Custom Water Feature Design
We work closely with you, to understand what your specific needs are and ensure that you get the kind of features that will add to the beauty of your home and its landscaping. Our company focuses on providing the best services and ensuring that the workmanship is top-of-the-line. This helps create features that look stunning, add to the aesthetics and functionality of the space and the value of your property.

For any more information about our water feature installation services, simply call Custom Outdoor Living at this number - 574-993-0629 and discuss your project details with our experts. We will provide solutions at very reasonable water feature cost. You can also send us details via this online form.

We Provide Services to the Following Cities, Towns and Surrounding Regions of MI and IN: