Wood Structures/Pergolas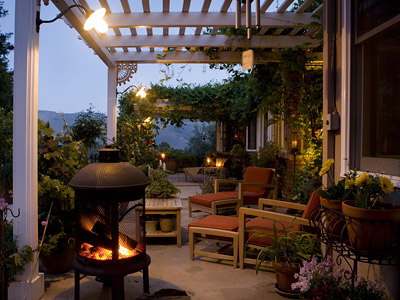 The landscaping on your property adds to the beauty of your home. A well-designed garden and yard encourages you to spend more time in the outdoor spaces and you will find that you also entertain guests more often there. However, it's crucial that these spaces be designed and installed well and that's exactly what we help with.

We at Custom Outdoor Living provide excellent timber pergola installation services to customers in and around Granger, South Bend, Elkhart, Mishawaka and Benton Harbor. We have a strong customer base across Goshen, Plymouth, Sturgis, Michigan City and Portage as well. Every landscape has certain common features such as trees, plantings and lawns etc.

Aside from that masonry feature such as retaining walls, paver installations, outdoor kitchens, patios and decking are common too. When we design and plan any landscape, property owners want to ensure that these spaces have a unique appearance. This is why we recommend they get timber structures installed. In fact we have also built pergolas on many properties as well.


Types of Wood Structures
Every property is different and we know that every homeowner has different needs too. This is why our landscape designers work in a very creative manner and provide stunning outdoor wood structure designs such as:


Gazebos - These are a very popular feature and if you have a large yard or garden space, this can be the perfect addition to it. A gazebo is a standalone feature that is semi-enclosed. It is typically octagonal in shape and has half height walls. The posts that rise from these walls along the periphery rise up to support the roof. You can place outdoor furniture in the shaded space under the gazebo and this becomes the perfect spot to spend some relaxed moments.
Decking - While there are a number of new decking materials in the market, most people still prefer to get timber decking installed. This is because a wooden deck has a definite charm and it looks good in any setting.
Railings - There are a number of areas where wooden railings can be installed. We can design and install timber railings for patios, decks and pool decks. We can also install railings along pathways or the periphery of lawns to demarcate these spaces.
Fencing - Many property owners like to install wood fences on their property. It lends a very neat appearance to the outdoor spaces, adds to the security of your home and to the value of your property.
Pergolas
These features can be installed above a patio or in any other part of the yard or garden. In fact, we can also build it above pathways and walkways in the outdoor spaces of your property. The pergola creates a semi-shaded space under which you can place outdoor furniture and relax and entertain guests in.

For any more information about our outdoor timber installation services, simply call Custom Outdoor Living at this number - 574-993-0629 and discuss your project details with our experts. We will provide solutions at very reasonable wood features cost. You can also send us details via this online form.

We Provide Services to the Following Cities, Towns and Surrounding Regions of MI and IN: