Retaining Walls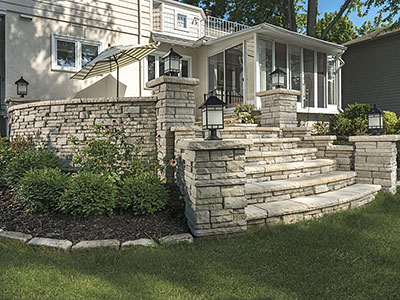 If you are getting your landscape installed, your landscapers will have to ensure that all the areas are leveled well and that the features have a solid base. There are times when the land has a lot of sloping areas on it or the grading may be incorrect and excavation work will have to be conducted before any features are built there. Once the excavation and leveling has been done, retaining walls have to be built to provide support to the soil and rocks.

Custom Outdoor Living provides excellent retaining wall solutions to customers in and around Niles, Buchanan, Edwardsburg, and Cassopolis. The company also caters to customers across Sumnerville, South Bend and Elkhart as well as in Granger and Bristol. The ranges of services they provide are:


Retaining Wall Blocks
Most retaining walls are built using CMUs- these are very resilient and durable modular blocks that are ideal for building these walls. They can be used to build walls of any height & length. If you don't like the look of concrete, these walls can be clad using stone veneer or brick veneer. This adds to the beauty of the feature and it will be more in sync with the look of the landscape and your home.


Concrete Blocks
The concrete blocks that are used to build retaining walls are modular units that can be used to build custom designed walls in any part of your landscaping. They prevent soil erosion and add to the integrity and resilience of the landscape. These are specially engineered walls and need some skill and experience to build. The company that handles the job for you will deploy experienced masons for the job.


Building A Retaining Wall
When your landscaper is building a retaining wall on your property, they will take into account factors such as the location of the wall, the size and shape as well as its function. In some cases these walls may be built to provide support to the landscape, while at others, they may be built to create a demarcation in the landscape and will have to be designed accordingly.


Retaining Wall Design
The design of the retaining walls on your property should be designed with care and attention to detail. They should be designed in such a way that they complement the look of the other features in the landscape. The retaining walls can also include in built seating lighting elements. This makes them a dual function feature which adds value to the landscape.


Block Wall
Building a block wall at strategic positions in the landscape; these could be built either to prevent soil erosion or to create a demarcation in the yard or garden space. They can also serve a dual function when built along the patio or fireplace area and you can have in-built seating in them- this creates a very distinctive look and increases the functionality of the installation.

Having attractive and strong retaining walls is about hiring a well-established and expert company like Custom Outdoor Living for the job. This ensures the best materials and workmanship are used in the work and the features look good, last for a very long time and add value to your property as well.


"MORE ARTICLES"
Outdoor Kitchens
Patios
Outdoor Living
Paver Installations
Water Features

We Provide Services to the Following Cities, Towns and Surrounding Regions of MI and IN: