Water Features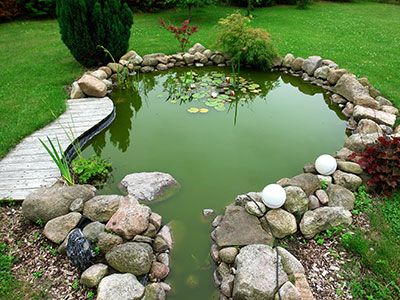 Every landscape is a mix of various features and they all work together to create a whole that looks stunning, adds to the ambience of your yard and to the value of your home. Many people like to add outdoor features such as an outdoor kitchen, a patio or deck etc. and many also like to have a water feature installation. These elements are decorative in nature and help create a very serene ambience on your property. Based on your specific requirements and space availability, you can choose from features such as water fountains, waterfalls and backyard ponds.

Custom Outdoor Living provides excellent water feature solutions to customers in and around Niles, Buchanan, Edwardsburg, and Cassopolis. The company also caters to customers across Sumnerville, South Bend and Elkhart as well as in Granger and Bristol. The range of services they provide are:


Water Fountains
A fountain is a very classic feature and has been used for centuries to adorn gardens on residential and commercial properties. The company that handles landscape design for you can provide you excellent custom water fountain installations for your garden and yard spaces. In most cases, the fountain becomes the focal point of the landscape and the rest of the designs and features can be built around that concept. You can choose from fountains made of stone, concrete or metal and can also get more than one installation for your landscape.


Waterfalls
Many people like to add waterfalls to their garden or yard. In some cases, they add these features to the deck or patio space as well. A waterfall can also be used to create a privacy wall in the part of your landscape that's exposed to a neighboring property. The waterfall design can be in sync with the rest of the elements in your home. For instance if your landscape has a more formal styled theme, the waterfall can be built using that design concept. You can also get Zen style, Mediterranean or Tropical styled waterfalls installed. If safety is a concern, you can get a waterless feature added to the landscape.


Backyard Ponds
If you want a more natural looking feature in your yard, you can get a backyard pond added to it. These ponds have to be designed well and you need to ensure that the location is planned well too. This is especially true if you plan on getting fish and aquatic plants for the pond. These living elements require a certain amount of shade to survive and its best to position the backyard pond in a shaded or semi-shaded area of your yard. You can also get Koi ponds installed and these lend a very Asian ambience to the space.

Having attractive water features is about hiring a well-established and expert company like Custom Outdoor Living for the job. This ensures the best materials and workmanship are used in the work and the features look good, last for a very long time and add value to your property as well.


"MORE ARTICLES"
Outdoor Kitchens
Patios
Outdoor Living
Paver Installations
Retaining Walls

We Provide Services to the Following Cities, Towns and Surrounding Regions of MI and IN: